Understanding Shopper Motivations
The Gear VR in-store device demo featured a content reel that automatically played once the shopper put on the headset. However, we felt some pieces needed to be added to connect deeper with customers so they could fully understand how to use the technology.
Speaking the Shopper's Language
We knew shoppers would be intrigued by the surreal visuals that surrounded them within the demo, but the lack of clear operating instructions and limited interactivity might cause testers to abandon the experience too soon. Because the adoption of personal VR technology was still so new, we felt that people would want to be eased into the world of VR and be more inclined to make a purchase if they felt they truly understood the breadth of the technology's ability to enhance their everyday life.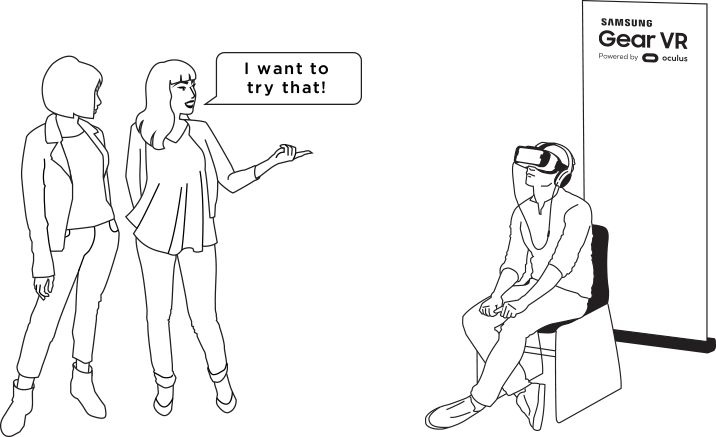 Activating with Perspective

We humanized the experience
by adding a welcoming voice-over.

We simplified the engagement by
utilizing gaze-based navigation.

We empowered the user to take
charge by selecting their own content.
Creating the Ultimate Virtual Reality Sherpa
We leveraged Samsung's premium design elements to create an interactive menu interface that slowly introduced the shopper to the stunning world of VR and all its entertainment possibilities before dropping them into a fast-paced, unfamiliar experience. A sleek, suspended holodeck welcomed users to the demo, while a simple, but directive, voice-over guided them through their ability to use gazed-based selection to preview content.
By empowering shoppers to understand and control their VR experience, we exponentially increased the amount of time each user spent with the demo. For the year, Samsung saw more than 3X the VR sales than that of their next four VR competitors combined.